You have 0 unique titles totaling 0 calendars in your cart at a value of $0.00.
2. Your Ad Message
2019 - Catholic Inspirations
Promotional Calendar
The Catholic Inspirations Promotional Calendar is Reverently illustrated with classic religious art appropriate to the Church.
Each image is accompanied by an Inspirational Verse from the Bible.
Fundraise for your Church or School with these Catholic Promotional Calendars.
Print your Church, School, Business, Organization or Event; Name, Logo and message for as little as 65¢ each!
This Catholic Promotional calendar monthly date pads feature:
• Catholic Liturgy on a daily and monthly basis
• lists all Holy Days of Obligation
• Feast Days
• Daily Mass Vestment.
• Large date squares for recipients to add appointments and other important events.
• Canadian Holidays
• US Holidays
Featured in PlumTree Calendar app available for Free on Google Play and the App Store
How to Fundraise with Personalized Catholic Inspirations Calendars
Fundraising Calendars. How can a Promo Calendar be used as a fundraiser? Quite easily it turns out; at a unit cost as low as 65¢, and a perceived value of $5 or more the potential return on investment is substantial.
Imprint your Catholic Calendars with a Thank You for Supporting our Church, School, Business or Event. Include in the message a little bit about your School, Church, Organization or Business, and a way to contact you. Then canvas a neighborhood, area, public place, tradeshow, etc. for support. Offer 1 for a $3 donation or 5 for a $10 donation, it won't take long for your investment to be returned.
Mix & Match this exceptional Catholic Calendar with selections from our other Custom Wall Calendar collections, in order to best suit your audience or customers' tastes.
Imprint your Personalized Catholic Calendars with your Church, Congregation, Company, Organization or Event name, logo and ad message As Low As 65¢
10 tips to get the most from your promotional business calendars.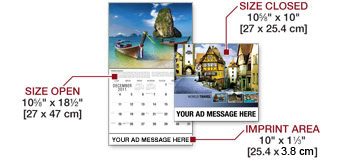 Calendar Specifications
Size Closed: 10⅝" x 10" [27 x 25.4 cm]
Binding: Stapled
Size Open: 10⅝" x 18⅝" [27 x 47 cm]
Imprint Area: 10" x 1⅝" [25.4 x 3.8 cm]
Weight: 3.46 oz [98 g]
Weight w/envelope: 4.02 oz [114 g]
Stock - cover: 8 pt coated
Stock - text: 60 lb Gloss paper stock
---
Qty
Compare
at
Pay Only
2000+
$0.89
$0.65
1000
$0.99
$0.69
500
$1.10
$0.75
300
$1.25
$0.79
200
$1.40
$0.85
100
$1.60
$0.95
50
$1.80
$1.20
pricing in US $
Calendar Themes