You have 0 unique titles totaling 0 calendars in your cart at a value of $0.00.
2. Your Ad Message
2019 - GM Classic Cars
Promotional Calendar
The GM Classics Promotional Calendar features the best from General Motors over the past century, with memorable models from virtually every decade and era.
Personalize your GM Car Calendars and promote your Business, Organization or Event Name, Logo and Message for as little as 65¢!
Monthly Date Pads feature:
• Large date squares for recipients to add appointments and other important events.
• US Holidays
• Canadian Holidays
Featured in PlumTree Calendar app available for Free on Google Play and the App Store
Getting the most from your Imprinted General Motors Car Calendars
Personalized Calendars, are the most cost effective promotional gift item there is. No other Promotional Product can compare to its cost per day value to you, or daily usefulness to its recipient. Your Imprinted GM Cars Promo Calendar will remain in the home or office an entire year. This year, try sending out Personalized Calendars with your Business, Organization or Event Name, Logo and Message instead of Holiday cards. They can be as much as 1/2 the cost and the perceived value is so much greater.
Personally hand to your existing customers to show your appreciation for their business. Target a specific neighborhood or area and blanket the area with your Imprinted GM Cars Promotional Calendar to drum up new business. It's better than a post card or flyer; it lasts all year !!
When your Imprinted Advertising Calendar is placed in high traffic areas, your name and ad message is seen by everyone who passes by; subliminally etching your business or organization's name in the viewers' mind.
Mix & Match this exceptional Business Promotional Calendar with selections from our other Wall Calendar collections, in order to best suit your Prospect audience and customers' tastes.
Personalize your Imprinted Vintage GM Car Calendars with your Company, Organization or Event name, logo and ad message As Low As 65¢
10 tips to get the most from your promotional business calendars.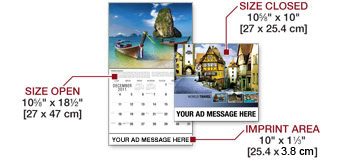 Calendar Specifications
Size Closed: 10⅝" x 10" [27 x 25.4 cm]
Binding: Stapled
Size Open: 10⅝" x 18⅝" [27 x 47 cm]
Imprint Area: 10" x 1⅝" [25.4 x 3.8 cm]
Weight: 3.46 oz [98 g]
Weight w/envelope: 4.02 oz [114 g]
Stock - cover: 8 pt coated
Stock - text: 60 lb Gloss paper stock
---
Qty
Compare
at
Pay Only
2000+
$0.89
$0.65
1000
$0.99
$0.69
500
$1.10
$0.75
300
$1.25
$0.79
200
$1.40
$0.85
100
$1.60
$0.95
50
$1.80
$1.20
pricing in US $
Calendar Themes