You have 0 unique titles totaling 0 calendars in your cart at a value of $0.00.
2. Your Ad Message
2020 Business Promo Calendar
Golf Tips, Quips and Holes
The 2020 Business Promo Calendar
''Golf Tips''
Features breath-taking images of 13 of the world's best golf holes, accented with humorous and thoughtful quotations aimed at golfers of all calibers.

Helpful mini-lessons and insider swing tips that can improve the game of handicappers of all levels are provided with each image.

Quality inexpensive business promo calendars are a great way to show your customers your appreciation for their business.

Personalize your Golf Swing Tips promo calendars with your logo, name and message. Promote your Business, Organization or Event for as little as 65¢!

Monthly Date Pads feature:
• Large date squares for recipients to add appointments and other important events
• Major US Holidays.
• Major Canadian Holidays


Bonus - Free advertising within 50 miles of your location.
Take your wall calendars digital with PlumTree Calendar app available for Free on Google Play and the App Store.


-
Golf Tips promo calendars and FREE PlumTree calendar app
Every Customer of somebody else is a potential customer of yours.
Mix & Match this exceptional business promo calendar with selections from our complete line of promotional calendars, in order to best suit your customer or audience taste. The calendar they choose is the one they will hang.
10's of 1000's of businesses in North America use business promo calendars from PromoCalendarsDirect to thank their customers and prospect for new clients, resulting in 40+ million individual personalized wall calendars distributed every year.
Every one of those calendars is also an invitation to the recipient to install PlumTree calendar to their smart phone or mobile device. Just like your wall calendar, recipients use the mobile calendar to organize their daily activities and schedule upcoming events.
PlumTree calendar app is the very same calendar as your wall calendar, as well as a digital marketing platform and launch pad to growing your business.
When you enroll your business with PlumTree, you gain access to the broad and growing base of PlumTree calendar users World wide. Enabling you to list your business and post ads for just about anything you do or sell.
PlumTree uses Vicinity Based Marketing (VBM) and GPS, as a user gets closer to your location your ads begin to appear in the offers being fed to the users mobile device. Your ads begin to appear when a user is within 50 miles of your location and climb higher in the list the closer the user gets to your event location.
Best of all...it's absolutely FREE.
Take advantage of the unique opportunitiy to digitally advertise your business or service on the mobile devices of shoppers in your vicinity for free.
We have developed the first and only business promo calendar for mobile devices.
What's more we're making it available to you for Free simply for showing interest in our line of promo wall calendars.
We invite you to join the growing number of businesses worldwide enrolling in PlumTree to advertise and promote their offers, events and services to the growing audience of PlumTree calendar users worldwide.
10 tips to get the most from your promotional business calendars.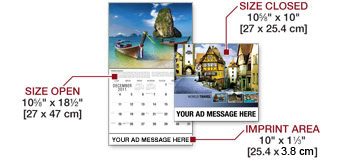 Calendar Specifications
Size Closed: 10⅝" x 10" [27 x 25.4 cm]
Binding: Stapled
Size Open: 10⅝" x 18⅝" [27 x 47 cm]
Imprint Area: 10" x 1⅝" [25.4 x 3.8 cm]
Weight: 3.46 oz [98 g]
Weight w/envelope: 4.02 oz [114 g]
Stock - cover: 8 pt coated
Stock - text: 60 lb Gloss paper stock
---
Qty
Compare
at
Pay Only
2000+
$0.89
$0.65
1000
$0.99
$0.69
500
$1.10
$0.75
300
$1.25
$0.79
200
$1.40
$0.85
100
$1.60
$0.95
50
$1.80
$1.20
pricing in US $
Calendar Themes