InfoBars™ included on Monthly Photos featured Promotional Wall Calendars
PCD calendars are all about "added value". In addition to the obvious competitive advantages of outstanding photos and images, easy-to-read datepads, and contemporary designs, we offer 18 of our titles with added informative text we call InfoBars™.
InfoBars™ are monthly text blocks which provide information which further complements the illustration or passes along interesting facts, tips or suggestions. InfoBars™ range from automotive maintenance tips, to health tips, to golf tips, all the way to facts about ecology, exotic animals or foreign destinations.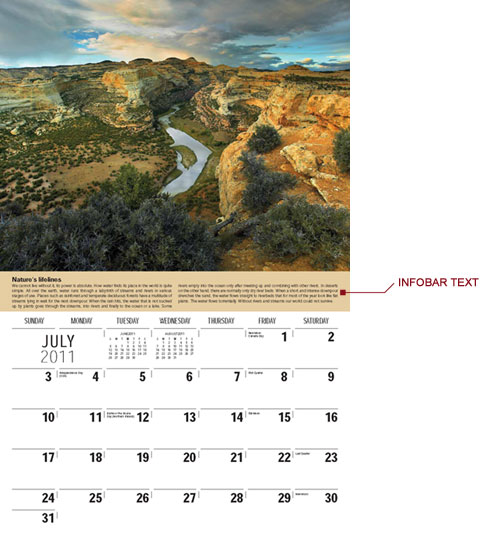 ---
Qty
Compare
at
Pay Only
2000+
$0.89
$0.65
1000
$0.99
$0.69
500
$1.10
$0.75
300
$1.25
$0.79
200
$1.40
$0.85
100
$1.60
$0.95
50
$1.80
$1.20
pricing in US $
Calendar Themes