You have 0 unique titles totaling 0 calendars in your cart at a value of $25.00.
2. Your Ad Message
2024 Promotional Calendar
Catholic Inspirations
Reverently illustrated with classic religious art appropriate to the Church.

Each image is accompanied by an Inspirational Verse from the Bible.


Quality promotional calendars printed with your logo
and name generate awareness for your Brand in a target area.


Company Branded Calendars
are an inexpensive new business prospecting medium.
Inexpensive advertising calendars
are a great way to show your existing customers your appreciation for their business and loyalty.
Monthly Date Pads feature:
• large date squares for recipients to add appointments and important events
• Major US Holidays.
• Major Canadian Holidays
-

How to Fundraise with Personalized Catholic Inspirations Calendars
Fundraising Calendars. How can a Promo Calendar be used as a fundraiser? Quite easily it turns out; at a unit cost as low as 65¢, and a perceived value of $5 or more the potential return on investment is substantial.
Imprint your Catholic Calendars with a Thank You for Supporting our Church, School, Business or Event. Include in the message a little bit about your School, Church, Organization or Business, and a way to contact you. Then canvas a neighborhood, area, public place, tradeshow, etc. for support. Offer 1 for a $3 donation or 5 for a $10 donation, it won't take long for your investment to be returned.
Bonus - Free mobile advertising within 100 miles of your location.
The backs of all PCD calendars are printed with QR Code links to the mobile app version of PCD calendars, PlumTree Calendar.
PlumTree is both a stunning full function mobile calendar app and vicinity, or proximity; based digital marketing platform to advertise your business, products and services for free.
PlumTree Calendar app is available Free on Google Play and the App Store.
You gain access to the marketing platform by creating your free business profile here...
Why should I use PromoCalendarsDirect as my provider?
Reliability
Celebrating 50 years of experience servicing 100's of thousands of satisfied clients we've learned a thing or two about promotional calendars, customer service and support.
100% Satisfaction Guarantee* – if you're not happy with your calendars we will do what we can to make it right for you.
Quality
Our superior quality calendars are not "cheap promotional calendars" they are "inexpensive promotional calendars"
We design, publish and personalize wall calendars, that's what we do and we do it better than anybody else. Our papers are of the finest quality made from North American sourced timber. All production, printing and bindery is undertaken in North America using the latest technology and most up to date equipment.
Producing over 30,000,000 quality calendars annually.
Flexibility
We understand that no one calendar theme can suit the taste of all people.
That's why we encourage clients to Mix their calendar theme selections to best Match their recipients interests in quantities as few as 25 per theme.
No other promotional calendar provider offers this level of flexibility.
Value
The promotional calendar may be the most cost effective advertising medium available to businesses of any size, small, medium or large.
In building brand recognition impressions is the key, for an entire year of your brand exposure the cost per impression amounts to fractions of a cent per impression.
With a unit cost low as 65¢ per calendar the competition simply cannot beat our price or match value.
Reach
When you buy your imprinted business promotion calendars from Promo Calendars Direct you not only receive top quality printed wall calendars but your business is listed in PCD's digital calendar app, a popular and growing digital version of the PCD line of calendars.
PlumTree is more than just a calendar app however, PlumTree is also a vicinity/proximity based digital marketing platform for small businesses to promote their business, products, services and expertise for Free.
Claim your free business listing and post free ads to the growing community of PlumTree calendar users in your neighborhood.
10 tips to get the most from your promotional business calendars.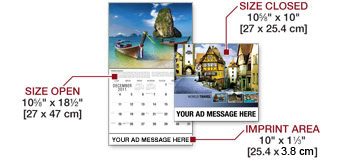 Calendar Specifications
Size Closed: 10⅝" x 10" [27 x 25.4 cm]
Binding: Stapled
Size Open: 10⅝" x 18⅝" [27 x 47 cm]
Imprint Area: 10" x 1⅝" [25.4 x 3.8 cm]
Weight: 3.46 oz [98 g]
Weight w/envelope: 4.02 oz [114 g]
Stock - cover: 8 pt coated
Stock - text: 60 lb Gloss paper stock
---
Qty
Compare
at
Pay Only
2500+
$1.10
$0.65
2000
$1.20
$0.69
1000
$1.25
$0.75
500
$1.35
$0.79
250
$1.45
$0.95
100
$1.60
$1.10
50
$1.80
$1.30
pricing in US $
Calendar Themes